*Unetbootin recommended
https://unetbootin.github.io/
◇ISO Download
-
Download Valkyrie Linux
[Change Point]
- Applied update of the Linux application until November 27,2021
- Updated to the Custom kernel "Noir linux kernel 5.15.5"
- Updated to the latest original application "Viper Tools"
- Updated to Wine 6.0.2,Mesa 21.3,Shotcut 21.10.31,Firefox 94,libllvm13,git 2.34.1
- Changed to emacs(GUI version)
- Added suspend item to Openbox right-click menu
◇ Overview
Valkyrie Linux is a 64-bit OS developed based on the Linux distribution "Ubuntu LTS version".
The desktop environment uses LXQt. Valkyrie Linux implements "Providing an execution environment for Linux/Windows applications", "Providing a software development/Web development environment", "Providing a multimedia content creation environment", and "Building a gaming environment".
This OS contains a custom kernel based on the latest Linux kernel. The custom kernel achieves high responsiveness and high performance by combining with the graphic driver "Mesa 21".
The default kernel is the low latency Ubuntu kernel 5.13.0. If you want to install a custom kernel, right-click on the desktop to bring up the menu, and you can install it from the "Install Custom Kernel" item. After installation, you can use the custom kernel by rebooting the system.
Equipped with popular applications such as "Firefox", "GIMP", "Audacious", "SMPlayer", "Emacs", "OBS Studio", "Shotcut", and "Steam", it covers most of the work done by desktop computing. SSB (Specific site Browser) allows you to use powerful online services like desktop applications.
If you want to use Google Chrome, you can install it from the "Install Google Chrome" item by displaying the right-click menu on the desktop.
The system tray contains application menus and volume volumes.
[Recommended system requirements]
Processor : Intel Core i,Pentium G/Celeron G,Atom SoC
AMD Ryzen
Memory: 2GB and over
Storage: 128GB and over HDD/SSD/USB memory
Network: FTTH・ADSL・LTE・WiMAX2+ etc.
[Tested Motherboard]
B150M COMBO(ASRock)
H97I-PLUS (ASUS)
C1007UN-D (GIGABYTE)
[Tested Stick PC(stable with wireless LAN toggle)]
STCK1A32WFC(Intel)
[OS SPEC]
- Ubuntu 20.04.3 LTS based
- Custom kernel "Noir linux kernel 5.15.5" / Ubuntu kernel 5.13.0 low latency
- original application "Viper Tools"
- linux firmware 1.201
- Mesa 21.3.0
- LXQt
- Tint2
- Openbox
- gmrun,dunst
- xfce4-terminal,xfce4-taskmanager,xfce4-screenshooter
- Intel iHD Driver 21.1.0
- ClassicMenu Indicator
- pnmixer
[Applications]
- Firefox 94
- emacs-nox 27.1,leafpad,glade
- pulseaudio,jackd2
- GIMP 2.10.18
- GCC 11.1,Python 3.8.10/2.7.18,node.js,libllvm12,PHP 8.0,node.js
- Wine 6.0.3
- OBS Studio,Shotcut,Audacious,Audacity,soundconverter,Blender 2.93.5,mpv 0.27.2,ffmpeg 4.2.4,SMPlyer 20.6.0
- Steam,PCSX2,mednafen,kega fusion,PPSSPP
- gnumeric,abiword
- keepassxc
- unetbootin,gparted,boot-repair,gnome disks
- git 2.34.1
- X11VNC,remmina
- apache2.4.41
- OpenJtalk
- Arronax
- Thunderbird
[icons]
- Suru++
[Fonts]
- Takao font
- font noto-emoji
- font noto cjk
- font noto cjk extra
- Cica
◇Others
-
Valkyrie Linux Documentation
-
Custom Kernel download
-
Viper Tools Download
[Window Close Shortcut]

Shift+Windows key+C

[Change Window Shortcut]

prev - Windwos key+j
next - Windows key+k

[Volume Shortcut]

volume up - Windows key+u
volume down - Windows key+i

◇
Install
1.Download the ISO (You can download it even if you don't have a OneDrive account. Right-click on the file you want to download to display the menu.)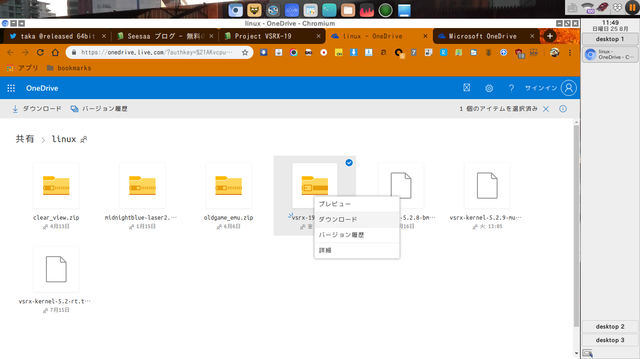 2.Create an installation disk (Live USB) on a USB memory with UNetbootin.
https://unetbootin.github.io/
3.Insert Live USB into the USB port of your computer so that you can boot from a USB memory so that you can boot from UEFI with Live USB. (Press the F11 key etc. when the maker logo appears.)
4.Boot the system with Live USB.
5.Connect your machine to the internet. There is an icon on the desktop that says "Install Ubuntu 20.04". Clicking this will launch the installer, so install it. If the installation of the boot loader "Grub2" fails, you can restart the LiveUSB system and use boot-repair from the right-click menu to install it.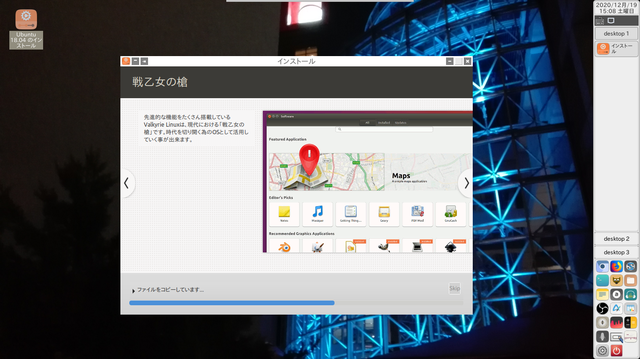 ◇boot-repair usage example
Uncheck "Advanced Options"-> "GRUB Options"-> "Secure Boot" and press the Apply button.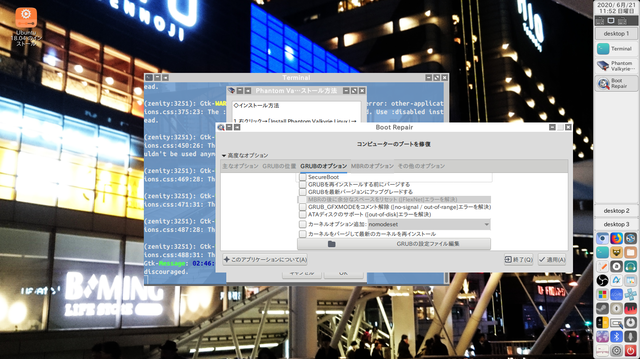 After installing GRUB, restart the system (even if you get an error saying that the repair failed, Grub2 is installed so you can start it without any problems).
◇Disable secure boot
1.The manufacturer's logo will be displayed when you start your computer, so press the F2 key or the Delete key at this time.
2.Since we are entering UEFI, change to advanced mode. (It depends on the motherboard you are using.)
3.There is a secure boot setting item in the security related items, so select this.
4.If you save and reboot, Secure Boot will be disabled and you will be able to boot your system.
◇What to do if you can't install a newer version of the kernel
Remove the tools related to live-boot-tools and initramfs-tools and reinstall them.
◇Update iHD driver

$ cd ~/viper/scripts
$ ./build_media_driver.sh